From time to time I am contacted to review a piece of equipment. I am happy to do so, but make a full disclosure when this is the case. Although Spikeball® sent me a set to review, I was not paid to write this post and my thoughts are my thoughts – not Spikeball's thoughts. In this post I want to share how I see Spikeball being used across the sectors in which I work.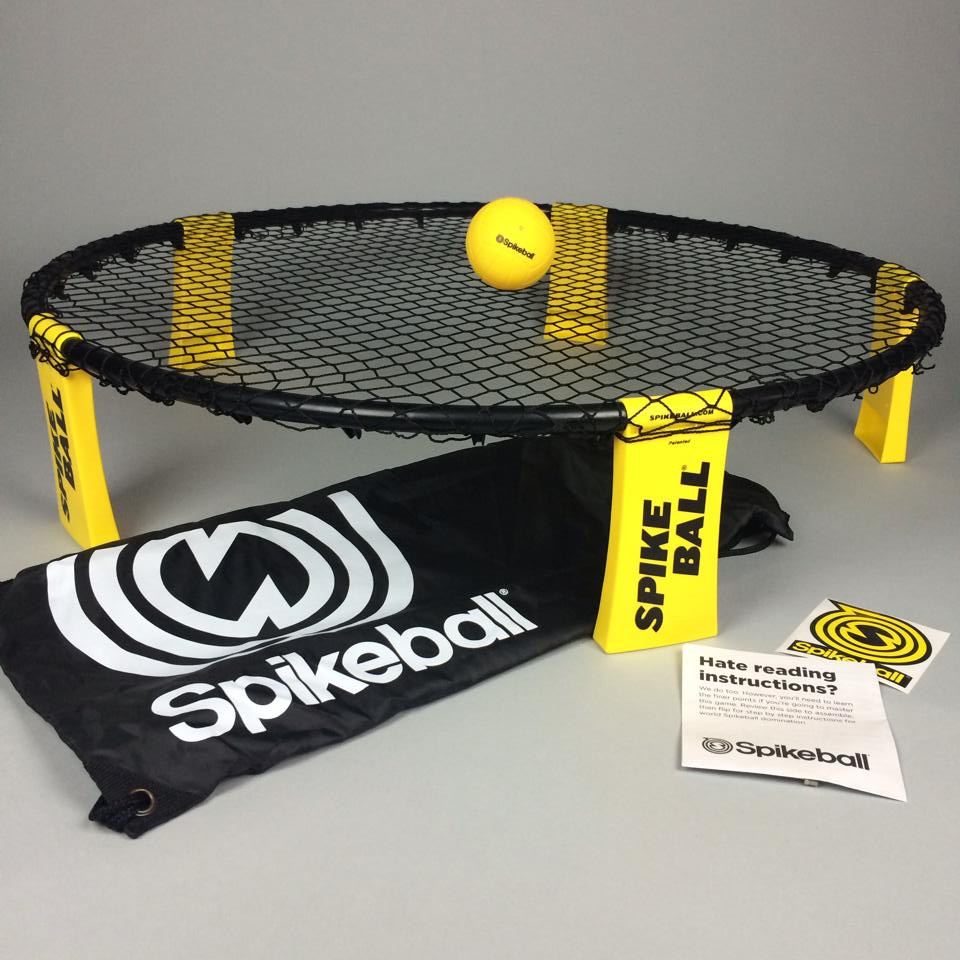 Physical Education. I first saw Spikeball in an exhibit hall at SHAPE America in St. Louis last April. Clearly, they see themselves as something that should be included in physical education programs. I think they're right. Spikeball could certainly be used when teaching sending and receiving with students in the early elementary years. You could modify equipment and have students reflect on how their responses change depending on the equipment being used. I also think it's a great addition as part of the net/wall category of the Teaching Games for Understanding (TGfU) instructional model. Finally, it could be used as a culminating activity, intramurals or before/after school affordable and fun offerings. Keep in mind that Spikeball can also be used both indoors and outdoors and one different playing surfaces such as a gym floor, sand, a playing field, and snow.
At Home. As a mum of a three and five-year-old I was able to put Spikeball to great use during this cold spell we have had in the mid-west the past month. My kids worked together inside on a really cold morning to put the game together. I took away the instructions to see how they would approach the task. It took problem solving, fine motor skills, communication, and collaboration for them to do it. Allowing kids to figure things out always seems to bring out the best in them; they were stoked when they completed the task. If you are using Spikeball at home or in school with younger aged children, be sure to modify the equipment so that it's most appropriate. For example, my kids used balloons and beach balls in addition to the Spikeballs that come with the set.
Youth/College Sport. A great way to get youth and athletes to practice early is to give them some fun reasons to do so. Since the Spikeball set is so easy to pack up and take places, you could easily set it up in a locker room or outside a practice field. A lot of college teams I have worked with like to play catch, kick a soccer ball, or throw a football leading up to a practice or game that happens to be an entirely different sport. With Spikeball, athletes could come up with their own round robin tournaments and use it as a fun team bonding/warm up activity. What happens if practice should begin and the athletes are really into the Spikeball tournament? Start practice a couple minutes late and be grateful it's doing its job of creating a positive team atmosphere.
Backyard Family/Friend Gatherings. I can't stress the ease of transport and quick set up enough. I can assure you the set I received I will be coming to family and run club cook outs this spring and summer. If you read my blog, you know I am about providing people with the opportunity to move. Why not have this set up and show kids and adults new norms around gatherings?
You probably concluded that I think Spikeball is pretty great. While I don't advocate for units of sports on their own accord, I think that there are many ways these sets can be used as part of a great physical education program, intramurals, in sport, and with the family.
Let me know if you've played or used it in your teaching and coaching or have a set at home! Feel free to share additional ideas of how to get the most of your Spikeball set in the comment section below.